Shou Sugi Ban Fencing And Privacy Screens
The addition of a fence to your space can bring with it a sense of privacy, security and a sense of style. Shou sugi ban fencing makes a great first impression for visitors, and it can dramatically improve the value of a home. In Japan, exterior privacy screens have been historically popular and seem to be catching on in the west.
Traditional Uses of Ko-Ushi and Privacy Fences  
In Japan, you will frequently see privacy fences around homes and buildings. Additionally, stoutly-built privacy walls and ko-ushi are standard design elements and are just as common. Ko-ushi are a sort of Japanese fencing, traditionally used to add privacy to homes. Designers strategically incorporate them around the home to block public view of private areas inside the house.
Ko-ushi and fences in Japan are almost always a creative design. Designers or architects will plan the fence in advance, adding it to their blueprints. Other times, traditional carpenters will fabricate the fence on site. Many designers and carpenters play with the various visual elements of Japanese fencing. Fencing can add to the visual interest of these homes. They do so by using different plank widths, creative design layouts and carefully planned placement.
Visual play is a foundational characteristic of Japanese design; this gives the structure a timeless aesthetic that always feels modern, regardless of the era in which it was built. By designing whole neighborhoods like this, the look and feel of the landscape is tied together by one regional aesthetic.
Materials Selection for Fences
You can't overlook the selection process of the materials when considering the addition of a fence. Building materials have a big impact on the overall design of the structure. We'd be remiss if we didn't promote shou sugi ban as a great option if you're considering the addition of a fence. If you're looking to add one to your space, we can't recommend it enough.
One consideration for shou sugi ban fencing to keep in mind is that the structural elements (such as posts and rails) of the fence cannot be shou sugi ban wood. Our specialized heat treatment is specifically for thinner boards; replicating this charring technique on structural elements isn't possible. Applying our specialized heat treatment to larger elements would likely cause them to bow, resulting in a crooked fence. Trust us, you don't want a crooked fence.
As for the overall look of the fence, if you choose yakisugi, you have a couple of options. You can apply an oil finish to the posts and rails to match the look of the shou sugi ban cladding, creating one cohesive color for all of the elements. Alternatively, you can choose to keep the structural elements a natural color, contrasting the shou sugi ban cladding.
Fencing Design Options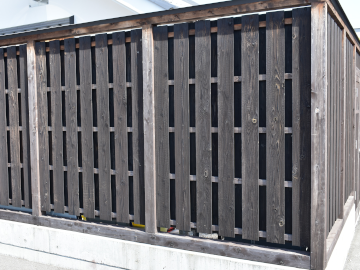 The sky's the limit on fence design; oftentimes, fences and screens are the most creative portion of traditional houses. Classic designs such as shadow box, basket weave, and flat board are common on both sides of the Pacific. Shadow box fences are designed to cast a shadow (as the name suggests), this is an option that looks good on both sides. In a basket weave fence, you arrange planks horizontally for a more unique look. Flat board fences are, design-wise, the most straightforward and simple. Shou sugi ban cladding is a viable option for all three of these types of fences.
Wood fences come in many different forms, but our favorites are those that are clad in Nakamoto yakisugi. It's no secret that Japan is dominating when it comes to house design. The same is true for fences; adding a Japanese-style fence (with the addition of shou sugi ban siding) will no doubt elevate the look of your home's exterior.
Here are some photos we took in historical neighborhoods in Japan. Note the varied materials used on privacy walls, with contrasting colors and even a roof to convey permanence. Some of the buildings in these neighborhoods are over 300 years old!