High-grade Japanese Sugi siding and paneling. Simple sawn straight logs, graded for color and grain, then sanded. Suitable for exterior and interior applications. Substitute on projects where North American cedar or cypress are specified. Delivered ready to install.
Sugi can be left unoiled in clean interior applications, or in exterior applications where a patina is desired. It can also be coated by the customer with standard tradecraft before or after installation. Leaving the wood unoiled in exterior applications allows it to weather naturally, according to the local climate. This is a great option for owners who appreciate the organic, natural beauty of wood and want to savor it as a living, changing finish. Unoiled siding can always be oiled in the future to add color or consistency.
Can be stained or coated on site, or enjoyed uncoated.
Alternate for many cedar or cypress specs.
Great color range.
Rich, clean, beautiful material.
Lineal foot pricing: $4.31 - $6.91 /LF
Square foot pricing: $9.70 - $11.05 /SF
For premium clear grade pricing, contact sales.
SELECT GRADE
SKU#
Profile
Reveal
SF/piece
CA2000
6" Lap
5 5/16"
5.33
CB2000
6" S3S
5 11/16"
5.75
CF2000
8" S3S
7 11/16"
7.75
PREMIUM CLEAR GRADE
CD2000
6" Lap
5 5/16"
5.33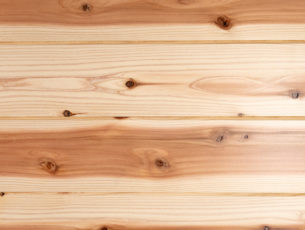 Select Grade (with knots)
Premium Clear Grade (without knots)
This product is designed to be installed and enjoyed for a lifetime without an oil finish and is delivered ready to install. It can, however, have an oil finish applied any time in the future if desired. For more detailed installation and maintenance guidance, see our Installation Guidelines.
Minimum order volume is 400 square feet for the order's first line item. Standard lead time is 2-3 weeks PO to ship-ready, then add 1-2 weeks for shipping. Please order at least 5 weeks before needed at site, and note that lead time can go up if we are oversold on specific items.
6" Lap - 1x6 Shiplap

Nominal 1x6x12

5 5/16 inches (135mm) actual reveal

145 11/16 inches (3700mm) actual length

5.33 SF/piece
6" S3S - 1x6 Square Edge

Nominal 1x6x12

5 11/16 inches (145mm) actual reveal

145 11/16 inches (3700mm) actual length

5.75 SF/piece
8" S3S - 1x8 Square Edge

Nominal 1x8x12

7 11/16 inches (195mm) actual reveal

145 11/16 inches (3700mm) actual length

7.75 SF/piece
*Dimensional shrinkage after manufacture is possible due to being a solid-sawn wood product.