Choosing a Profile for Shou Sugi Ban Siding
1. Choosing a Shou Sugi Ban Surface for your Project
2. How to Select an Oil Prefinish for Shou Sugi Ban Siding
3. Choosing a Wood Grade for Shou Sugi Ban Siding
The last step in placing an order for shou sugi ban is deciding between shiplap or square edge siding. If you've read through the first three posts in this series (linked above), you are likely already familiar with our four different shou sugi ban surface options: Sugi, Suyaki™, Gendai™, and Pika-Pika™. You may have an idea of which oil prefinish color option you would like for your project, and you might already know which wood grade you prefer. The final leg of the spec process is deciding on a wood profile.
The wood profile is the shape of the plank. Choosing the profile of the wood is primarily a design decision; you must lay out the planks in a predetermined design. Different widths and layouts change the appearance of the walls quite a bit. There are many, many profiles used in interior and exterior wall and ceiling applications, and we have two optimized for our product category: shiplap and square edge.
What is Shiplap Siding?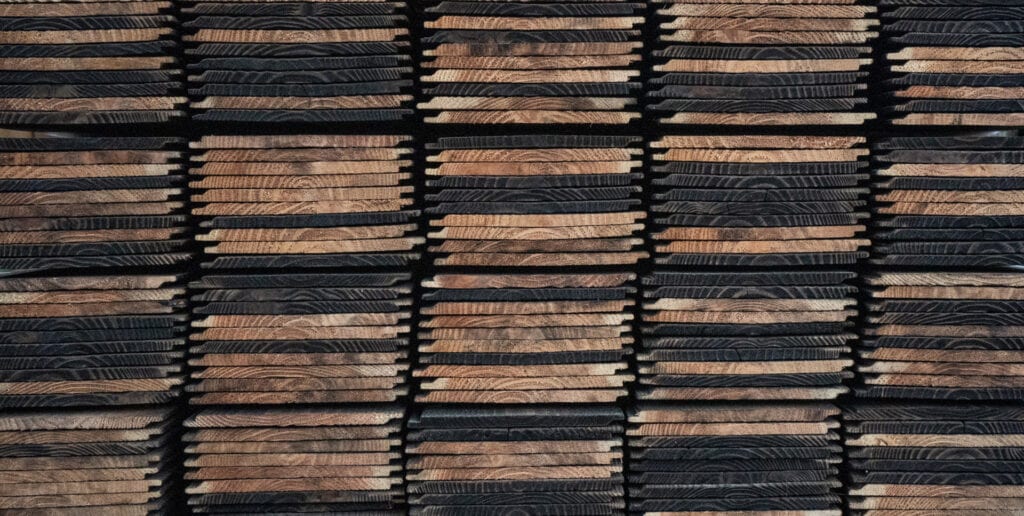 Shiplap siding, recently popularized most notably by Chip and Joanna Gaines on their TV series "Fixer Upper" (seriously, they use it EVERYWHERE) has a female to male overlapping edge joint detail. Each row of wood overlaps the last row installed. Doing this will hide the substrate completely and helps with funneling water down the wall. You can install shiplap in vertical, horizontal, or diagonal orientations.
Shiplap is similar to tongue and groove (T&G), shiplap is primarily used for exterior applications and T&G is used for interior. We like to use shiplap for exterior projects because it's better for shedding water. Additionally, it also dries out more quickly, rots less, and it stays straighter over time than T&G. Shou sugi ban is primarily an exterior material which is why shiplap is one of the two profiles that we offer. While we optimize our shiplap profile for longevity in exterior applications, it performs just as well for interior projects.

Pros:
Sheds water, weeps quickly, and dries out quickly
Low to no maintenance
Easy to install
Less rot, warping, or cupping than T&G over time in exterior exposure
Better wood longevity than T&G
Easily installs as interior paneling
Cons:
Less versatile than square edge planks in terms of wall layout
Walls can appear like a monotonous surface
Tongues cannot be blind-nailed
What is Square Edge Siding?
Square edge siding is essentially regular-edge planks. You can freely lay out square edge planks in many different patterns. As a result of our heat treatment process, planks end up with treated surfaces on three of the four sides. This means that you have flexibility when it comes to the layout. We call square edge profile "S3S", which is short for Surfaced 3 Sides. To put it simply: it's just a piece of wood that the carpenters can use freely to clad any wall or ceiling surface.
The most common wall layouts we see are open or closed screens. Other options include clapboard and board and batten layouts. Siding is simply a cosmetic facade that protects the vapor barrier from UV degradation. The vapor barrier and flashing are technically what keep water out of the structure. This is gives an added benefit to square edge siding; you can freely design the layout to achieve a specific look. You don't have to worry about gaps between boards in an open screen.
Many modern projects are laid out with a shadow gap detail. Technically, a gap between boards maximizes air flow behind the siding which means it cools the house better, dries out more quickly, and has fantastic durability. Remember that with clapboard or board and batten layouts, overlapping boards means that you need more wood to cover the same surface area.

Pros:
Can be ripped, laid out, and overlapped to match many cladding aesthetics, both traditional and modern
Just a pile of wood to be used freely
Maximum durability out of all wood profiles
Low to no maintenance
Cons:
Wall layout has to be carefully planned and gauged
People often think gaps will allow water behind siding (not a problem with screen walls)
Make sure to have a black substrate if there is a shadow-gap detail
Making the Decision
The wood profile decision is based on the wall layout you choose for your project. Both shiplap and square edge profiles are good options. Choosing one over the other simply comes down to personal design preference. This step in the shou sugi ban cladding specification process is usually a team effort, with the designer, builder, and owner involved. There are no bad decisions here, it really is an artistic exercise.